2nd International Conference on Laser, Plasma and Radiation - Science and Technology (ICLPR-ST)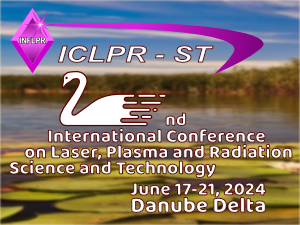 Following the successful 1st edition in 2022, we are pleased to announce the 2nd International Conference on Laser, Plasma and Radiation - Science and Technology (ICLPR-ST), which is organized by INFLPR in cooperation with Laser, Plasma and Radiation - Science and Technology Association, between June 17-21, 2024, in the magnificent scenery of the Danube Delta, Lebada Luxury Resort, Crişan, Romania.
Our aim is to bring together leading experts, researchers and students working in the fields of lasers, plasma, and radiation physics, thus providing a unique complementary and interdisciplinary environment for sharing and discussing the latest scientific and technological developments. The programme will combine the scientific presentations organized as plenary and invited lectures, as well as oral and poster contributions with social activities, promoting active exchange of ideas in a relaxed atmosphere.
The conference will accommodate an industrial workshop, where scientific researchers and industrial engineers will present their success stories in terms of technological transfer and development of new products. Discussions about intellectual property rights and the perspectives enabled by the implementation of new emerging solutions in companies will take place during the meeting.
A Summer School on Laser, Plasma and Radiation Physics is also planned prior to the conference in the same location, where we warmly welcome students, young researchers and anyone interested in revisiting the fascinating world of photonics, diagnostics and laser-plasma-matter-interaction, guided by renowned scientists in these research areas.
CONFERENCE TOPICS
● Fundamentals, diagnostics and modeling in laser, plasma and radiation physics
● Advances in optics, laser and photonics
● New trends in thin films and nanomaterials synthesis and processing
● Modern applications in environment, life sciences and energy
● Innovative technologies for sustainable future
Co-Chairs: Valentin Crăciun, Maria Dinescu, Ion N. Mihăilescu, Bogdana Mitu

INTERNATIONAL SCIENTIFIC COMMITTEE
Anemie BOGAERTS – Belgium
Peter BRUGGEMAN – USA
Gheorghe DINESCU - Romania
Ionut ENCULESCU – Romania
Lucian Marian GHEORGHE – Romania
Camelia GHIMBEU – France
Ioannis GIAPINTZAKIS – Cyprus
Dunpin HONG – France
Lucian ION – Romania
Jan LANCOK – Czech Republic
Thomas LIPPERT – Switzerland
Andrei MARDARE - Austria
Monica MAGUREANU - Romania
Selma MEDEDOVIC THAGARD – USA
Andrea MURARI, Italy
Nicolaie PAVEL - Romania
Razvan STOIAN – France
Koji SUGIOKA - Japan
Calin UR - Romania

EXECUTIVE COMMITTEE
Nicolae-Cristian Mihailescu– Romania
Felix Sima – Romania
Gabriel Socol – Romania

INDUSTRIAL WORKSHOP COMMITTEE
Adrian DINESCU – Romania
Andrei POPESCU – Romania
Nicu SCARISOREANU - Romania
Ion TISEANU – Romania

LOCAL ORGANIZING COMMITTEE
Alexandru ACHIM
Mioara BERCU
Mihai BONI
Ana BRATU
Gabriela DORCIOMAN
Mihaela FILIPESCU
Cristina-Petruta GHEORGHE
Aurelian MARCU
Natalia MIHAILESCU
Catalin PATRU
Cristina POPA
Carmen RISTOSCU
Angela STAICU
Dorina TICOS
Mihai ZAMFIR
Marian ZAMFIRESCU

KEY DATES:
● December 15th, 2023: Open for submitting abstracts
● February 1st, 2024: The deadline for submitting abstracts
● March 1st, 2024: Notification of abstract acceptance
● April 1st, 2024: Registration open
● May 15th, 2024: Early bird fee payment deadline
Updates will be regularly posted on the conference web site: http://iclpr-st.inflpr.ro/.