Doctoral and postdoctoral "Eugen Ionescu" scholarships at INFLPR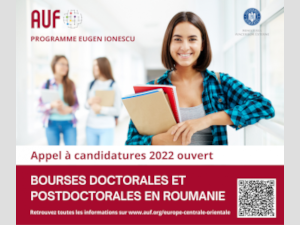 INFLPR, member of Association of Francophone Universities (AUF) since July 2019, initiated the call for doctoral and postdoctoral scholarships "Eugen Ionescu" financed by Romanian Government (http://www.mae.ro/node/36446).
More information and research subjects can be found attached to the announcement or online at:
https://www.auf.org/nouvelles/appels-a-candidatures/bourses-de-recherche...
Application deadline is March 31, 2022.